Monday, February 18
This Friday, February 22nd, and Saturday, February 23rd, I'm hosting a huge two-day chat at my ZinniaHope Yahoo Group. I've invited authors M.E. Ellis and Adelle Laudan to chat with me so that there is a Genre to Suit Every Taste.
IR Romance
Erotic Romance (sizzling)
Traditional Romance
Horror
Sci-fi
Mystery
Psychological Thrillers
Chick Lit
Inspirational and Inspirational Romance
Contemporary
Biker Fiction
And even a little literary/mainstream!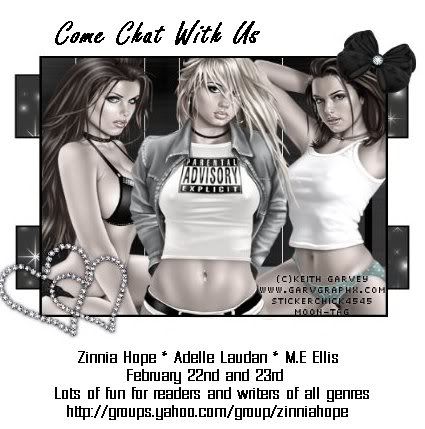 Also, we have some AMAZING prizes in store for those who join us at the chat. A list with photo links to some of the prizes is available on the site page. Plus, if you promo our chat somewhere and place the link to your promo in the LINKS section of my group, you'll be entered to win not one, not two, but THREE e-books, one from each of us!
You don't want to miss this chat! Who knows? You might win a beautiful lilac candle, a print book, a tee shirt, etc!
Come on over, sign up, and chat away with us this weekend. You can always unsubscribe from the group later. http://groups.yahoo.com/group/zinniahope
Zinnia Hope
Z's Author Newsletter
0 comments

~~~~~~~~~~~~~~~OO0OO~~~~~~~~~~~~~~~